Pictured Left: The cast during Q&A after the screening of Lila & Eve. Picture courtesy of We Connected Productions, LLC.
Sharee and I were ecstatic to attend the Sold Out screening of the film Lila & Eve at the 2015 Sundance Film Festival on Friday, January 30. The film stars actresses Viola Davis and Jennifer Lopez. The buzz the day prior was that actress Viola Davis was going to be in attendance. Unfortunately, actress Jennifer Lopez was unable to attend.
Review:
We hear the stories of parents grieving for a child killed by drug dealers, a drunk driver, a cop, or innocently by a stray bullet. The parent(s) may get exposure worldwide, nationally, online, or locally on news stations and newspapers. What happens next? What happens when the spotlight is no longer on the lost of your child?
Lila & Eve tells the story of the mother Lila (Viola Davis) loosing a son by a drive-by shooting. She attends group therapy meetings for mothers who have lost a child due to violence. At the meeting she meets Eve (Jennifer Lopez) who lost her daughter. Lila goes to the police station often asking about any leads on the shooter of her son. Lila felt invisible and ignored by the police. Eve suggests they find the shooter themselves. The police are not doing anything and have moved on to other cases, specifically if the person is non-color. The suspenseful scenes that unfold are a series of events of Lila and Eve trying to find the shooter of Lila's son.
The last few minutes of the film will leave you in tears. Movie goers around us were wiping away tears, including Sharee and I. Although we do not have kids, you are left wondering would you have done the same thing as a person who have lost a love one and feeling invisible by authorities.
The final thought is not to forget the humanity of others. Go see this film when it comes out.
                                    Pictured Below: Viola Davis at Sundance Film Festival 2015.Picture courtesy of zimbio.com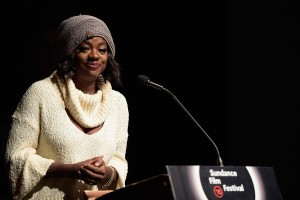 Interesting Facts:
Actress Viola Davis gained insights on portraying "Lila" by talking to a childhood friend who lost a child due violence.
Actor Julius Tennon, Viola Davis's husband, stars alongside her in this film. He  also executive produced this film.
Actress Viola Davis was born in St. Matthews, SC.
Actor Chris Chalk (Alonzo) is from North Carolina. Sharee met him at the Sundance Film Festival store and they had a brief conversation. Follow Chris on Twitter @chalkchris
Lila & Eve stars Viola Davis and Jennifer Lopez as two distraught mothers, whose children were gunned down in a drive-by, team up to avenge their deaths after local authorities fail to take action.
Have you lost someone to violence? How have you dealt with the lost?