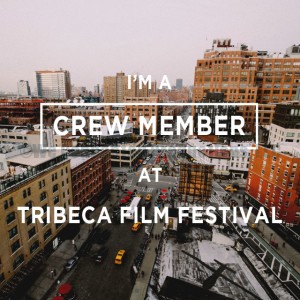 I was able to work as a 'Crew Member" (terminology used for paid volunteer vs non-paid volunteer) at NYC's Tribeca Film Festival from April 24-26, 2015.  It was an exhilarating experience in that I was literally thrown into the mix as a festival worker during the final weekend.  I worked in the areas of Hospitality, Special Events, and Audience Awards.  Each position added to my customer service, analytic, and technical skills.
Day 1 was with hospitality, whereas I provided information about'Def Con', an area of film and TV that resolves around the hacking industry.  If you love the TV show 'Scandal' or movie 'Red' and it's sequel, then you understand the terminology.  These industry consultants help us see the world of hackers, both the real and unreal.  My sister, Rhonda, participated in some of their seminars and exhibitions.  During her 2 days of participation, she created a fun and interactive electronic game of 'Simon Said' and also learned how to pick a lock.  Who knew we had a 'hacker' in the family!!
Day 2 was working with Chris Milk's Installations.  His virtual reality installations revolved around a pair of googles that allowed you to watch a video 360 degrees.  One video allowed me to view the life of a refugee family, and in another, I was protesting in the streets of NYC shouting "I can't breathe" in reference to the death of Eric Garner in the hands of Staten Island police officers.  If you'll like to learn more, check out more info at Chris Milk and the technology behind it, Oculus.
Day 3 had me counting ballots for Audience Awards.  The top winner in each category, narrative and documentary, walked away with $25,000.  I had to recount ballots for either the second or third time to ensure the previous counts were accurate.  I found it to be a relaxing task that was held on the 27th floor of the AT&T building overlooking the entire NYC skyline.
I enjoyed my experience working as a 'crew member' with Tribeca Film Festival, and look forward to doing it again next year!!
Sharee W.